About the Author
---
Here is where I give a short description of myself... for those who might have any kind of interest...
Name (Pseudonymous): Gary Wolfchild
Age: 26 years old
Birthplace: Lisbon, Portugal
Occupation: Construction designer
Hobbies: Music, drawing, writing, reading, etc.
Musical tastes: So many stuff... from Queen to Metallica, from Dexy's Midnight Runners to Nevermore or Shakira to Lost Prophets... and up for a Valkirie's ride with Wagner. And variety on my musical tastes just grows by the day! :-)
Drinks: Whisky, Beer, Pisang Ambom, Vodka, Orange juice
Likes: Mother Earth, Arts, Sex, Maths, Logic thinking, Beautiful Women
Dislikes: Violence, Injustice, Stupidity, Hypocrisy - and Black Metal
"I had my first contact with the Masters of the Universe series when I was 9 and the figures appeared on the Portuguese market (delayed, as usual). The TV show followed soon after. My connection with the series lasted for about 3 years, but that short period marked me in such a way that I've always remembered it as THE childhood favorite since. As years passed by, I realized what I did like most and least in the series and the characters. This made me start to think about re-writing the story, simply for personal enjoyment. It was supposed to be in Comic format, but I don't have the needed time amount to go on in such a quest in this moment of my life." :-(
"So, I decided to write the story down as a romance, and add a few illustrations to make it a little visual also. This is when I had the idea of having the book online, so that other people that might be interested can have access to it. I also want to add that the stories (very well) written by L.E. Bryce included at the Granamyr's Lair site have been a great influence for this book. As a final note, I would like to state that English is not my first language and that I have no studying in literature, so please forgive me for any mistakes along the way, and e-mail me to let me know about them. Thank you for visiting this page, and LET THE POWER RETURN!!!"
Gary Wolfchild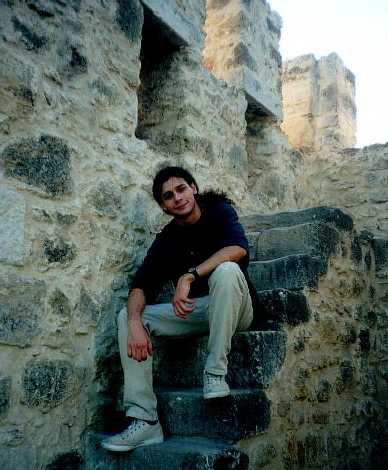 Myself, on my trip to Grayskull (or some other castle here in Portugal...)
---